As we are closing in to September and bidding our farewells to a month of gluttonous food fest (ho yeah, countless open houses for 4 weeks to a point I am scared shit looking at the food menu - I kinda psyched that the month is almost over), I was furious to found out that my Istanbul plans were called off by the tour agent because of the low take up rate.
Seriously Mayflower? You tell this a month before I fly? After I dream the almost-impossible dream to fly across the picturesque Cappadocia - all of a sudden you squash it like a pumpkin and say "oops, were sorry - we can only fit you in to November"crap?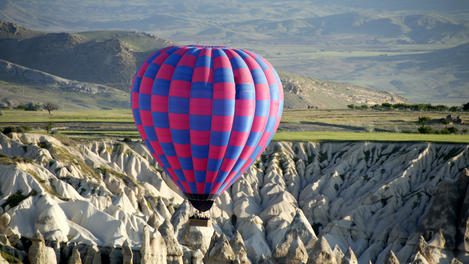 *pics ihsan Lonely Planet*
Sigh.
I refuse to submit. So I turned on my travel diva cap and searched for another agent (which I hope that will put me through) as I scorn the agent who squashed my dreams.
But guess what I found out?
MAS sale!!!!!! Cheapo MAS flights from 1 Sept to 15 May next year to various places and I got all crazy....
Ok...patience is a virtue. Sabar. I can'[t exactly go everywhere within that span of time considering I have classes and work (hmmmm....). Well I dont yea have to work. Otherwise no holidays.
And so I will settle with hoping that the new agent can get me through (oh please please please) and getting the girls oiled up for Komala's hen's trip in April. Oh yeah - the wheels are all set - we will finally be overseas to celebrate Kom's entrant to marriagehood next year. All the girls will be there.I'm super psyched!
:)
That one good thing to look forward too. For now best not to fret about things that may not happen and hopefully things would turn out for the best.